Tracked And Cabbed Side x Side UTV Rentals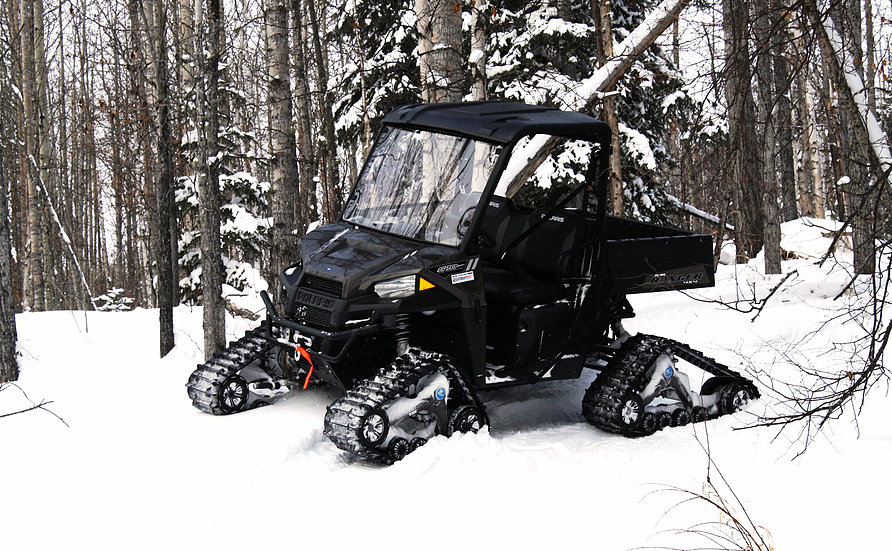 Side x Side UTV Rentals
Tracked and Cabbed Side By Side UTV Rentals. We offer equipment for all seasons, conditions and terrains. Adding tracks to the already versatile Polaris Ranger makes it a valuable asset all year round. With the comfort and safety of a heated cab, many companies choose a side by side over  snowmobiles to eliminate the dangers of Alberta's harsh climate. For the same cost as 2 sleds you can Comfortably transport 2 people and the tools and equipment required to complete the job. Camoplast tracks allow easy travel in winter conditions and snow is no concern when a ranger is outfitted with a track system. There are many situations where tracks will prove their value, but winter is when they outperform all other equipment. All Whitecourt All Terrain tracked side by sides have power steering to compensate for the extra drag of the tracks.
Quads are available Here. For extreme conditions we also offer the Argo Avenger 8×8 With Tracks
Why Are We The Best?
We are available 24 hours a day, 7 days a week.  We offer early morning pick ups and late night drop offs with no "off hours" fees. We can always be relied on.
We have taken measures to increase safety throughout our procedures. Rigorous maintenance, documented pre-rental and return inspections, and added features to our equipment aid in maintaining the highest standards of safety.
We offer the best equipment available. We do not buy used equipment, aftermarket replacement parts, or knock off name brands. We are dedicated to providing the highest quality, safest, up to date, and reliable equipment in the area.
Please contact us for pricing and availability