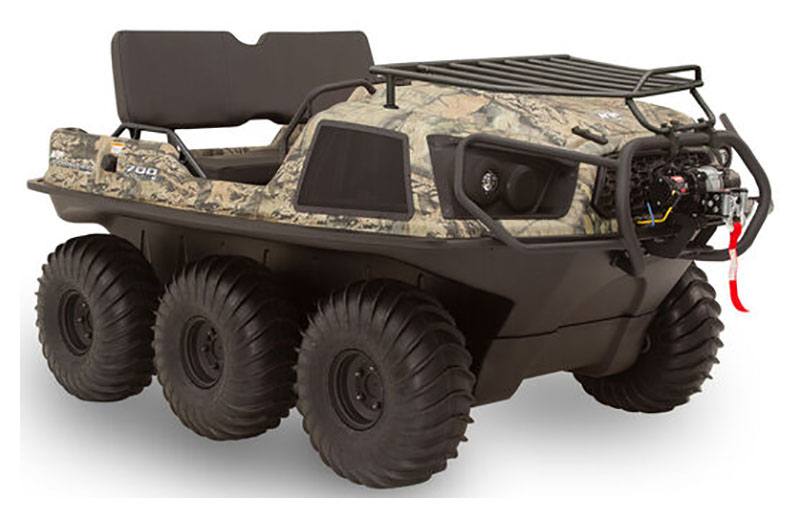 THE ARGO FRONTIER 700 SCOUT 6X6
The Frontier six-wheeled amphibious vehicle is the starting point for our XTV lineup — a point that demonstrates the high standards at ARGO. Now with TrueTimber Prairie camo, the Frontier 700 Scout 6×6 delivers the same dependable power and reliability of their bigger siblings to maximize your ability in the woods, mud or water.
Our Classic transmission with ARGO Progressive Steering (APS) and the addition of the new Instant Torque Clutch (ITC) provide smooth handling for both new and seasoned outdoor enthusiasts. Feel in control, safe and excited at all times, especially during your annual hunting trip. The new '22 Frontier Scout 6×6 continues to rise above the industry's standard definition of entry-level.
$18,899
SPECIFICATIONS FOR THE ARGO FRONTIER 700 SCOUT 6X6
Specifications
| | |
| --- | --- |
| HORSEPOWER | 23HP |
| CYLINDER | V-TWIN |
| FUEL SYSTEM | EFI |
| COOLING | FAN COOLED |
| ALTERNATOR OUTPUT (MAX) | 16 AMPS |
| SERVICE BRAKES | HYDRAULIC |
| STEERING BRAKES | HYDRAULIC |
| AUTO CHAIN LUBRICATION | N/A |
| BRAKE COOLING FAN | ACCESSORY |
| TRANSMISSION | CLASSIC W/APS |
| DRIVE BELT | STANDARD |
| FULL SKID PLATE | STANDARD |
| BRUSHGUARD | STANDARD |
| WINCH | 2,500 LB |
| FRONT RACK | STANDARD |
| BILGE PUMP | STANDARD |
| ROPS | N/A |
| STRETCHER FRAME | N/A |
| REAR MESH | N/A |
| ROOF | N/A |
| POWER DUMP BOX | N/A |
| LOAD CAPACITY - LAND | 510 lb (231 Kkg) |
| LOAD CAPACITY - WATER | 310 lb (141 kg) |
| TOWING CAPACITY | 1,200 lb (544 kg) |
| SEATING CAPACITY - LAND | 4 |
| SEATING CAPACITY - WATER | 2 |
| FUEL CAPACITY | 8.5 gal (32 L) |
| SPEED - LAND | 22 mph (35 Km/h) |
| SPEED - WATER | 3 mph (5 Km/h) |
| WEIGHT | 1,030 lb (467 kg) |
| LENGTH (includes winch when standard) | 103 in (2,616 mm) |
| WIDTH | 58 in (1,473 mm) |
| HEIGHT | 51 in (1,295 mm) |
| AXLE BEARING EXTENSIONS | STANDARD |
| ENTRY STEP | ACCESSORY |
| TIRES | ARGO XT115 24X10-8 |
| RIMS | STEEL OFFSET |
| GROUND PRESSURE (18" RUBBER TRACKS) | 0.73 psi (5 kPa) |
| GROUND CLEARANCE (TIRES) | 10 in (254 mm) |
| GROUND CLEARANCE (TRACKS) | 11 in (279 mm) |
| WARRANTY | 1 YEAR |
| COLORS | TRUETIMBER PRAIRIE CAMO |
Less