WHITECOURT ALL TERRAIN Commercial Rentals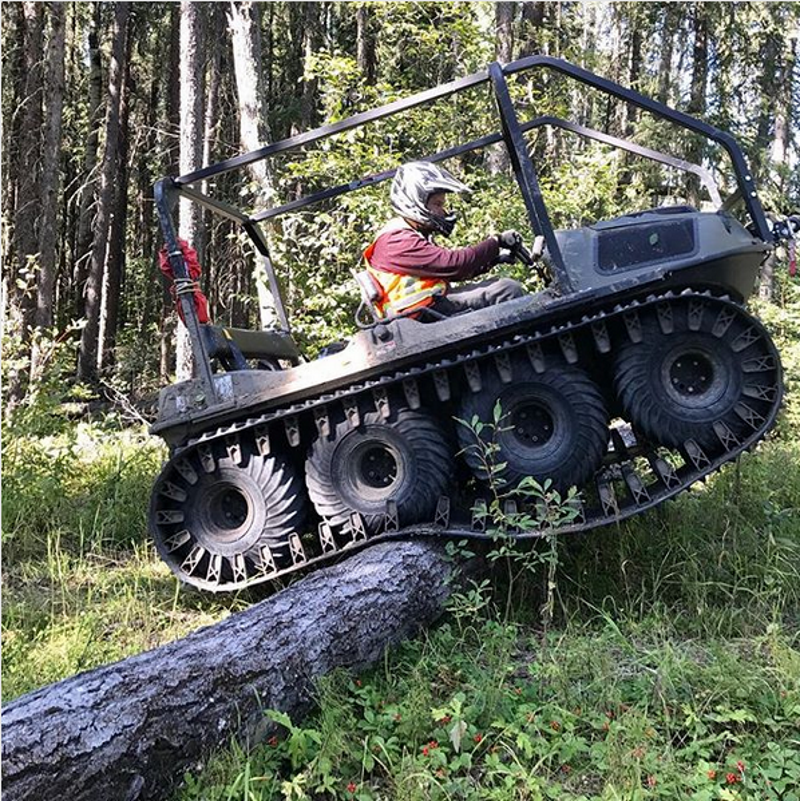 Argo Avenger 8x8 XTV Rentals
XTV? Yes, Indeed. Extreme Terrain Vehicle. Whitecourt All Terrain Provides all terrain vehicle rentals for all levels of access. From quads and side by sides to our most versatile option, the Argo Avenger 8×8. 8 wheels, tracks, and fully amphibious. If 4 wheels won't cut it and the ground is soft or non existent, then the Argo Avenger is your remote access ticket.
Our Avengers are outfitted with winch, 4 person ROPS, tracks, mud flaps, and fire extinguisher. Available rear seat and heated cabs available, as well as medic ready Responder units for remote access first aid.
We are proud to be Whitecourt's local Argo dealer and service center. Our Red Seal and Argo certified technicians keep our equipment in as new condition, and are available to tackle any issue you may experience with your own equipment. We service everything from small engines to quads, snowmobiles, and road bikes. Visit our Service page for more info.
| | |
| --- | --- |
| Horsepower | 30HP |
| Cylinder | V-Twin |
| Fuel System | EFI |
| Cooling | Liquid Cooled |
| Alternator Output (Max) | 25 Amps |
| Service Brakes | Hydraulic |
| Steering Brakes | Hydraulic |
| Brake Cooling Fan | —– |
| Transmission | Admiral |
| Transmission Option | ST or HT |
| Drive Belt | Standard |
| Full Skid Plate | Standard |
| Brushguard | —– |
| Winch | —– |
| Front Rack | —– |
| Bilge Pump | Standard |
| Load Capacity – Land | 1,070 lb. (485 kg) |
| Load Capacity – Water | 920 lb. (417 kg) |
| Towing Capacity | 1,800 lb. (816 kg) |
| Seating Capacity – Land | 6 |
| Seating Capacity – Water | 4 |
| Fuel Capacity | 7.1 US gallons (27 litres) |
| Speed – Land (ST Transmission) | 20 mph (32 km/h) |
| Speed – Land (HT Transmission) | 17 mph (27 km/h) |
| Speed – Water | 3 mph (5 km/h) |
| Weight | 1,330 lb. (603 kg) |
| Length | 119 in (3,023 mm) |
| Width | 60 in (1,524 mm) |
| Height | 46 in (1,169 mm) |
| Axle Bearing Extensions | Standard |
| Entry Step | —– |
| Tires | Argo AT189 25×12-9 |
| Rims | Steel Off-set |
| Ground Pressure (Tires) | 1.7 psi (13.5 kPa) |
| Ground Pressure (Tracks) | 0.67 psi (4.6 kPa) |
| Ground Clearance (Tires) | 9.5 in (241 mm) |
| Ground Clearance (Tracks) | 10.5 in (266 mm) |
| Warranty | 1 Year |
| Colors | Green/Black |